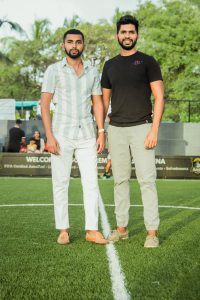 Shawn and Sherwyn Costa, two young brothers who are sports enthusiasts hailing from Seraulim, South Goa, born in a family of football lovers have always dreamt of making their contribution to development of youth sports in the state.
Their father, an ex-footballer for Salgaocar Sports Club believed in the need for the upliftment of football in the state through the provision of better quality sports training facilities for the youth. Influenced by their father's beliefs, Shawn and Sherwyn would now like to realise their goals through the set up of an unique, state of the art and one of the first, futsal arena in the South Goa region.
OUR VISION: To provide a state-of-the-art futsal recreational facility that will promote a positive and upcoming youth sports culture as well as accommodate any level of play commensurate with every player's individual ability, potential, and interest.
Shawn Costa, co-owner of "The Base, Goa" is not only a sports enthusiast but over the years has enhanced his knowledge of sports through completing his Master's in Sports Management degree from Bournemouth University, U.K. Shawn's international experience in managing sports facilities and associated events, includes assisting as an executive assistant at the ICC Cricket World Cup, 2019 organised in London, U.K. Furthermore, Shawn continues to contribute to football development in Goa as he currently works in Operations at FC Goa.
Sherwyn Costa, co-owner and brother of Shawn Costa besides being a sports and fitness enthusiast, is also a management graduate from the University of Waikato, New Zealand and also holds international experience in the football industry as he volunteered at the U-17 Football World Cup held in New Zealand in 2016. Furthermore, Sherwyn currently holds the position of "Sports Secretary" at the Seraulim Sports Club and is regular football player for United Sports Club of Seraulim as well as the Betalbatim Sports Club. Through, his association with local football clubs, brings extensive experience and much needed contact with the local football fraternity.